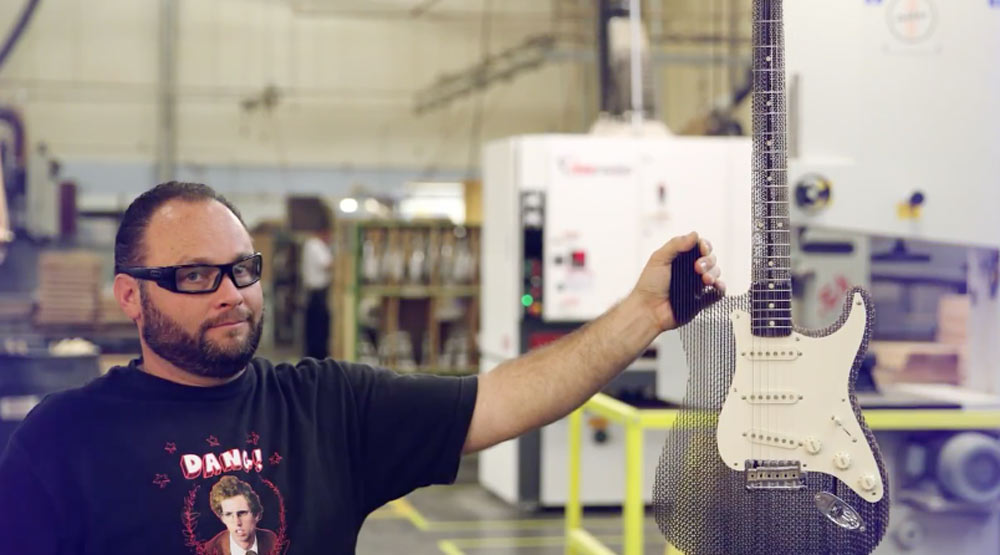 While they typically stick to snowboards, the people at Signal recently got together with Los Angeles-based Ernest Packaging with an interesting project.
The idea was to see if Ernest could team up with the Fender Custom Shop to manufacture a Stratocaster made entirely out of cardboard. You read that correctly. Cardboard.
Sure, it might be easy to fashion a cardboard guitar that looks like the real thing, but what about its sonic capabilities?
That part was left to Fender Master Builder Paul Waller.
Upon receiving a cardboard body and neck, Waller went about hand-shaping the pieces before adding all the typical accoutrements of a guitar, like the pickups, bridge, pickguard, tuners and strings. The guitar made its way around the Fender Custom Shop, where several employees tested it and came away impressed.
Finally, it was off to Linkin Park vocalist Chester Bennington and guitarist Brad Delson for the big reveal.
"This is the sickest piece of anything that has ever been made!" exclaimed Bennington, who officially presented it to Delson.
"This guitar looks cool, and I can't believe that it's made out of cardboard," said a smiling Delson as he played it for the first time.
Certainly, this is a guitar that must be seen – and heard – to be believed. Check out the entire building process in the video below.